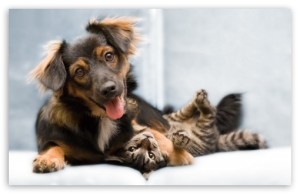 Is Your Property Pet Friendly?
When your house is up for rent, you usually want to find quality tenants in the shortest amount of time. To make sure your not losing out on collecting rent each month. If you're okay with being pickier and waiting a little longer for the "right tenant" this might not be a problem for you if you've decided not to allow pets. But some owners need the turn around of renters to be placed in their property done faster.
There are some weeks where we don't have any properties that allow pets, and owners miss out on many potential renters. We track all of our calls and keep notes on each property when a potential renter might show some interest. We've dealt with some owners who've decided to allow a small pet. In this case we add to their rental listing "Small Pet Negotiable- under 15 lbs, extra charge Pet Rent $15 per month, owner approval required."
Many extra steps are taken when any of the properties we manage are "Pet Friendly." Here are a few tips to help you…
Collect an Additional Security Deposit. To help protect the owners and their investments against pet damage, we collect an additional fee (pet deposit) that is included in the Security Deposit. We have found this brings peace of mind to the owner and really is useful if the pet causes any damages.
Some Pets Are Family. We receive many calls from potential renters where the first question out of their mouth is "Do you have any Pet Friendly homes?" If we answer, "Yes" we already have a leg up against other rentals. I know many people who's pets are truly their family won't consider looking anywhere except where their pets would be 'Welcome.'
Consider Charging Pet Rent. You can make an additional charge of "Pet Rent" each month. Be sure you advertise this with your property, and that it is written up in the lease. But we have many owners who have taken this route. They make a little extra each month, and some even set that aside that money in case there are any extra damages when the tenant moves out.
Service Animals. If a tenant has a service animal, they are legally allowed to keep their pet with them and no monthly "Pet Rent" can be charged in this case. They are still required to pay the additional Pet Deposit when they move in. A tenant also has the right to keep their service animal with them regardless if your property is pet friendly or not. Keep in mind, if you are dealing with Service Animals, they are usually professionally trained and some actually have better manners than you would initially expect.
Damages Caused by the Pet. This is where the extra security deposit comes in that you collected when the tenant moved into the property. Normal wear and tear on the property is to be expected when owning a rental property. But when damages exceed that, you'll be grateful that you have that extra security deposit. Keep in mind that if the amount to fix damages is higher than the security deposit, the tenant is still responsible to pay those fees. This should be stated in their signed lease as well.
With Pets being a huge part of some people's lives, you might want to consider allowing pets to live in your property. Just be aware of what you can and can't charge as an owner. Here at Real Property Management Wasatch we deal with these type of situations every day. If you're looking for help with your property investment, we would be happy to give you a free quote!
We are pledged to the letter and spirit of U.S. policy for the achievement of equal housing opportunity throughout the Nation. See Equal Housing Opportunity Statement for more information.